Community Challenge Fund
"Helping communities help themselves"
2020 Community Challenge Fund Approved Projects: 
Building a community Court for Kids in Las Rosas by supporting food, travel, lodging, materials, and equipment worth $3,327.
Helping NGO, Wine to Water, supply 75 handwashing stations and 50 home water filters in Espaillat Province, worth $5,000.
Helping NGO, Puente International, add bathrooms to 20 houses in El Canal worth $4,993
Helping Wine to Water provide 51 handwashing stations at health facilities in Santiago, La Vega, San Cristobal, and Mao, worth $3,336
Helping Puente International provide essential health services equipment in Constanza worth, $841; and,
Helping Puente International provide 250 handwashing stations in Constanza, worth $1,231.
A $5,000 grant to assist Wine to Water to install 130 Hygienic Handwashing Stations in the Provinces of La Romana, Altagracia and San Pedro.
A $5,000 grant to the Everett Washington Rotary Club to be used to implement a Greenhouse Gardens project in the community of Chaucey, Dajabon Province. The initial project will include construction of 8 individual greenhouse gardens in Chaucy.
2019 Community Challenge Fund Approved Projects:
Judea Nueva/Monte Cristi - Peace Corps - Court for Kids - $4,000
Tejada Alta/Los Hatillos - Peace Corps - Youth Courts - $3,533
Buen Hombre/Villa Vasques – Peace Corps - Court for Kids - $1,503
Los Rios/Neyba – Peace Corps – Court for Kids - $4,000
Los Gajitos/Constanza – Puente – 22 Bathrooms - $4,965
Los Gajitos/Constanza – Puente – 29 Cement Floors - $3,677
Progreso/Santiago – Techo – Community Library - $4,833
Progreso/Santiago – Techo –Construction of 2 Starter Homes - $3,909
School Drinking Water & Wash Facilities - Wine to Water 100 Filters/47 100 Filters/47Wash Stations - $5,000
Total CCF Investment: $35,420

2018 Community Challenge Fund Approved Projects:
Guayabo, Courts for Kids - $1,532
Sabana de la Mar Economic Development project to Purchase a Tour Boat - $3,701
Total CCF Investment: $5,233

2017 Community Challenge Fund Approved Projects:
Juagua, 40 smokeless Duncan Stoves - $3,354
Punta Cana, ED Agro-Veterinarian Supply/Resource Center - $4,000
El Hatico, 30 Duncan Stoves - $2,120
Los Miches 25 Efficient cooking stoves - $2,796
Copay, Courts for Kids - $4,000
Juan Santiago, 20 cement floors - $2,357
Constanza, re-constructed storm drainage canals - $3,491
Total CCF Investment: $22,118

2016 Community Challenge Fund Approved Projects:
Yasica Arriba, grade/middle/high school libraries - $3,065
Hato San Pedro,10 latrines - $1,916
Sabana Larga, Library - $2,949
Candelon, 19 Latrines, including the school - $4,000
Rancho Arriba, 15 latrines - $3,234
Perez, 15 latrines - $2,520
Los Robles, Courts for kids - $1,800
La Pascuala, Women's coconut oil Cooperative - $4,000
Paso de los Burros, 25 efficient Duncan stoves - $817
Ingenito, 25 efficient Lorena cooking stoves - $1,231
Los Algarrobos, learning center/community center - $4,000
La Guazuma, 19 latrines - $3,841
Los Rios, 15 latrines - $1,323
El Cuey, 23 latrines - $4,000
La Descubierta community water supply for 181 persons - $2,856
Juan Santiago, 20 cement floors - $4,000
Total CCF Investment: $45,342  

2015 COMMUNITY CHALLENGE FUND PROJECTS APPROVED
92: La Guarzara (Barahona) - Construction of a Greenhouse for Economic Development   The Asociacion de Agricultues en Progreso de La Guarzara, a small community of 3,000 persons located in the hills of the dry southwest corner of the country, assisted by PCV Danielle Naven, proposed the construction of a greenhouse to intensely grow income-producing vegetables at high yields. The formal association has been in operation since 1990 but lacked the capital to make major changes to the way they farmed. The grant will give them the opportunity to significantly increase their volume and yield. The $4,000 CCF grant will pay for much of the materials needed for the construction of the greenhouse and represent the first economic development project approved (as a pilot) under the CCF. The 30 families in the association will benefit directly from the produce grown in the new greenhouse. Approved October 2015

91: Four Communities near Elias Pena - Construct 80 Efficient Cooking Stoves   Working through a committee of community leaders of the communities of Comendador, Pinzon, Hato Viejo and Sabana Larga (all located within 20 minutes of each other in the outskirts of Elias Pena), PCV Bruno Estrada has assisted the communities to cooperate in developing a cooking stoves construction project.  A total of 80 households and 440 persons will benefit from the project. The environmentally-friendly cement and clay stoves emit significantly reduced harmful gases, reduce costs of fuel through their efficiency, reduce the need to cut trees for fuel and vent smoke out of the kitchens and away from harm to children playing in the kitchens while their family cooks. A $4,000 CCF grant pays for the purchase of cement and the clay piping that is needed for the construction. Approved October 2015

90: Jabonico (Sanchez Ramirez) Potable Water Well- drilling project   The small rural town of Jabonico located in the central foothills has been without accessible clean water for more than a year as a result of a failed water source.  Assisted by PCV Tiven Buggy, the community formed a six-member Water Committee to develop a plan and financing for a solution to the water problem impacting the lives of the 60 families and 310 people living in the town. The community requested a $3,455 CCF grant for the costs of drilling a new well near the community and building a 500-gallon storage tank. The community will provide all of the labor and pay for the cement, rebar, cement blocks and a water pump to bring the water to existing water lines and into the homes. A maintenance and replacement fund has been established that each benefitting family pays into monthly to sustain the new water supply system. Half of the grant funds will come from the Robert Kultsad Memorial Fund. Approved September 2015

89: Villa Jaragua (Barahuco) - Construction of 50 Healthy, Fuel-Efficient Stoves   PCV Katy Falletta helped organize the community around its number one priority – reducing costs of cooking and reducing the dangerous fumes from their current inefficient stoves.  Several of the families to be benefitted, currently do all of their cooking on open, three stone cooking areas while many others are using cost-inhibiting gas stoves for much of their cooking. This project is a continuation of a successful, recently completed, project which constructed 35 stoves. The current project will use a CCF grant of $3,752 to pay for materials to construct 50 new stoves benefitting 300 persons. The beneficiaries will provide the labor and provide some of the materials costs.  Approved September 2015

88: Candelon (Dajabon)  - Construction of 15 Sanitary Latrines   . Located in the northwest Province of Dajabon and near the Haitian border, the small, rural community of Candelon, with its 75 households, has been actively working with PCV Hannah Cranford to improve health in the community. The PCV's community diagnostic revealed that 60% of the homes surveyed used latrines that serve multiple homes and almost on-half of those were in very poor condition.  A project to construct new latrines was developed in partnership with the community's "Healthy Homes" project, headed up by a group of female health promoters focused on community health. They requested a $3,017 CCF grant to help pay for the costs of materials to construct 15 new pit latrines serving 60 persons in the town.  Approved September 2015

87-15: Mariano Cestero and Vara de Vaca (Dajabon) - Development of a Community Library/Computer Learning Center   Two small communities composed of 491 residents located near the Haitian border town of Restauracion have long been interested in improving basic education for its children and adults. Reading materials available in the community consisted of 15 books. The closest library materials were 7 miles away. A committee of youth, the "Grupo de Jovenes par el Desarrollo Comuntario", formed in 2014 to begin planning for the creation of a library and learning center. With the help of Education Promotor PCVs Julie Pangborn and Emerson Roberts-Donnelly, the Committee focused on creating a library/literacy/internet center to extend the educational opportunities for students and for adults who never had the opportunity to obtain an adequate education.  The Committee secured vacant building in need of rehabilitation owned by the Ministry of Agriculture, for re-use as a library/computer center.  A major fund-raising effort was made to obtain resources. Instrumental in the feasibility of the project was the $4,000 CCF grant contributed to purchase building materials and installation of a new, reliable power source for the new library building. Approved August 2015

86: Restauracion (Dajabon) - Community Library   The organizational/planning effort of the Committee for the Development of Restauracion Municipal Library, with the assistance of PCV Kinnerly Croisant, developed a feasible plan to create a new community library for the town of 3,000 residents and 2,000 more in the surrounding area. The plan includes opening up space for a computer room, expanded books and reference material space and the installation of a battery powered generator to extend the hours of use. Fifteen hundred books will be added to the reconstructed library.  The Community Challenge Fund will support the project with $512 to purchase chairs and desks.  Approved August 2015

85: Punta Larga & Hernandez Alonzo (Sanchez Ramirez) – Improved Cooking Stoves The small community of 100 households located in the central mountain range has been using open cooking fires for centuries. The health issues associated with the inefficient burning of wood in a confined, unvented building are well-documented. The community planned to use the $2,814 CCF grant to construct 30 stoves. As the first few stoves were going into use, the popularity of the new, clean, fuel-efficient stoves quickly increased. Five more stoves were added to make the total 35 stoves constructed benefitting 175 Dominicans. Twelve stoves were reserved for women who completed a Health course delivered by PCV Jocelyn Dorland. Approved May 2015 – Completed October 2015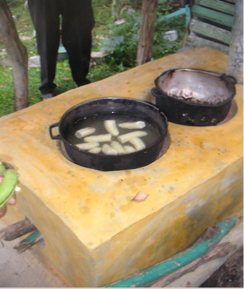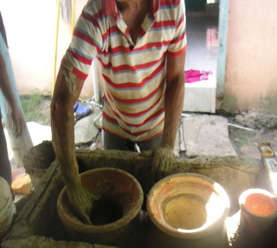 84: Batey 80 (La Romana) – Solar Electrification of School Library   Batey 80, located in the agricultural area of the southeastern coastal plain, is among the poorest of communities in the country. PCV Sarah Twing worked with group of enthusiastic teenagers to plan and develop a small library in the community school.  The town of 400 had no place for evening study nor any reference materials and books for reading and study. The CCF provided a $2,120 grant for the solar energy system to provide lighting for evening study and computer learning.  Approved May 2015 – Completed August 2015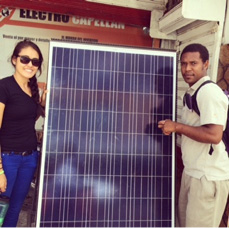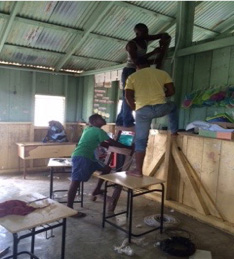 83: Copey & Manzanillo (Monte Cristi)  - Construction of 40 Improved Cooking Stoves  Located near the northern Haitian border, the communities of Copay and Manzanillo, working with PCV Brownen Raff, submitted a request for a $3,834 CCF grant to pay for materials to build 40 Improved Cooking Stoves serving 220 people. Beneficiaries agreed to cook with the new energy-efficient, healthy stoves a minimum of 90% of the time, significantly reducing environmental and health impacts as well as costs of cooking with other methods.  The Everett, Washington Rotary Club provided a special donation of $3,000 to the Challenge Fund toward the CCF grant for the project. The two communities of 4,000 residents had already completed construction of 30 stoves in an earlier project and used that experience to continue with the current project. Approved February 2015 – Completed September 2015

82: La Mabrigada (San Juan) – Construction of Sanitary Cement Floors in Homes   Of the 80 homes in the community of La Mabrigada, resting in the foothills of the central mountain range, almost one-half had dirt floors. PCV Nicole Winters had been working with community leaders to improve hygiene in the homes of families. A second component of the public health program was to improve sanitation in the home by constructing cement floors.  A CCF grant of $2,996 to pay primarily cement and sand to construct floors in 34 homes, benefitting 210 residents was approved to support their efforts. Approved February 2015 – Completed August 2015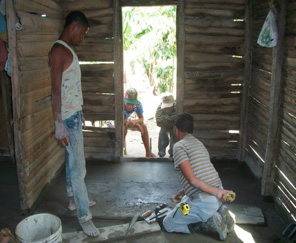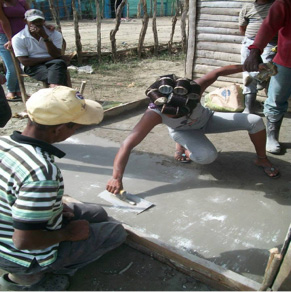 81: La Lima (Santiago Rodriguez) - Construction of 15 Pit Latrines   Only 30% of the homes in the small community of 250 tucked into the northcentral mountain range. The project, a key component of the Hogares Saludables conducted by PCV Grayson Caldwell, was identified as the community's number one priority. The ten local Health Promotors selected the fifteen families to be included in the construction project. A CCF Grant of $3,884 provided most of the materials needed for the project. Approved February 2015 – Completed October 2015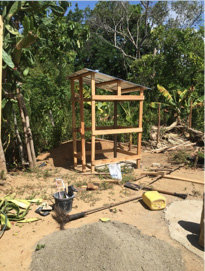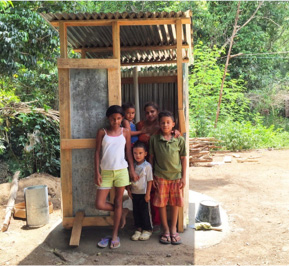 80: Hato Viejo (Elias Pina) – Development of Community Library in School     Hato Viejo, a rural community of 500, was without a library. PCV Jimmy Graham helped organize the community around the development of a small library in the school.  The 100 students in the school were without shelves to hold even their meager, overused books and reading materials. With a CCF grant of $284 to pay for the cost of materials for shelving, community members constructed the bookshelves. The Program Support Fund and other resources were used to purchase additional reading materials to supply the library. Approved January 2015 – Completed May 2015

79: Ranchito de los Peralta, Angostura and Caonao (Puerto Plata)  Construction of 30 Duncan Improved Cooking Stoves. The Duncan Stove project in the community of 450 persons is a continuation of a previous stove project extending the stove construction project to 30 more families representing almost 1/3 of the homes in the community.  PCV Rivkah Cohen assisted community leaders to set up the project which included the contribution of $700RD by each participating family. A $3,307 CCF grant was the primary source of funds to pay for construction materials.  Approved February 2015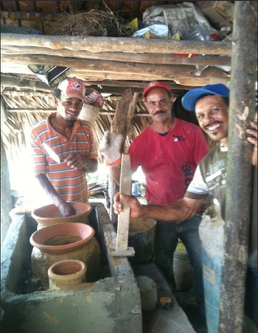 78: Gurabito de Yaroa (Puerta Plata) Development of Library in School   The community of 400 located in the mountains of Puerto Plata lacked a library for 105 students in the elementary school and the multi-grade school. PCV Katherine Buckingham, working with teachers in the school developed priority list of books and reading materials which were purchased with FDR Program Support Funds. The CCF grant of $268 paid for the materials to construct shelving to hold the books. Approved January 2015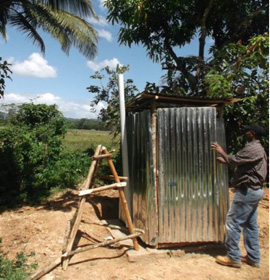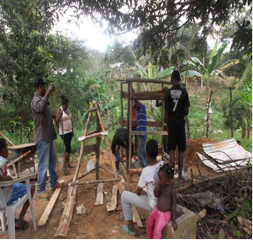 2014 PROJECTS APPROVED
77: Los Guineos (Sanchez Ramirez) – Construct 15 Sanitary Latrines   Working tin the agricultural community of Los Guineos, home to 1,000 people, PCV Laura Thompson conducted a community diagnostic to determine the primary needs and interests of the residents. She found that the majority of homes in the two poorest neighborhoods of the five neighborhoods in the community did not have latrines. To begin working toward meeting that need, the community planned for the construction of latrines and applied for a CCF grant of $1,943 to construct 15 pit latrines.  Approved December 2014 – Completed March 2015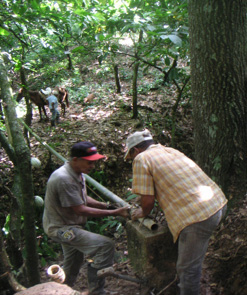 76-: Punta LargaKulstad, a former water project Volunteer in the DR. Approved July 2014 – Completed February 2015
75: Los Negros of La Guama Arriba (El Tenares) - Extension of Water Supply System.  The small, remote mountain community of Los Negros did not have a reliable source of water until PCV Benjamin Brock began working with community leaders to find solutions. They determined that there was sufficient flow from a recently completed water source and transmission project in the area and that they could extend that system to Los Negros by laying pipes and constructing spigots at the 12 homes which were without water. One half of the CCF Grant of $1,834 was contributed directly from the Robert Kulstad fund honoring a former PCV who made significant contributions to improving water systems in the country. Approved June 2014 – Completed August 2014

74: Rio Limpio and Rabinsal (Elias Pina) - Installation of 40 Water Filters   The isolated and impoverished community of Rio Limpio located near the Haitian border, had received assistance 10 years ago to install a small number of bio-water filters to improve community health.  However, those resources were well short of the need. Working with PCV Stacy Cooper, the community requested a CCF grant for $1,097 to help pay for some of the purchase materials costs of 40 new water filters for individual homes. Donations made to the Robert Kulstad Fund paid for 50% of the grant costs.  Approved April 2014 – Completed July 2014

73-: La Guama Arriba (El Tenares) – Installation of Drinking Water Filtration System The community's new water system provided water to the homes for cooking, cleaning and bathing but the it could not be used as a safe drinking water source. Working with PCV Ashely Brock, the community requested $2,480 CCF funds to purchase materials for 30 additional Bio-sand Water Filters. Donations made to the Robert Kulstad Fund paid for 50% of the grant costs.  Approved April 2014 – Completed July 2014

72: Los Altos de Peguero (EL Seibo) Construction of 50 New, Efficient Cooking Stoves  Fifty families in the community of 450 homes were selected through a community process to participate in the construction of new, environmentally-friendly and fuel efficient cooking stoves. Requesting a CCF grant of $2,646 for materials, benefitting family members worked with PCV Quamisha Deroches, and a mason to construct 50 new stoves which have reduced the fuel consumption of families by 2/3. Approved April 2014 – Completed May 2014

2013 PROJECTS APPROVED
71: Higuerito (Espaillat), Construction of 42 Improved Cooking Stoves, PCV Noelle Dorrow   CCF Grant: $2,923

70: Tres Ceibos (Sanchez) Construction of 51 Improved Cooking Stoves, PCV Eric Broberg CCF Grant: $3,000

69: Vuelta Larga (Sanchez) -Construction of 15 Latrines, PCV Jackson May CCF Grant: $2,413

68: Los Morones/San Luis (Peravia) - Construction of 50 Improved Cooking Stoves to help improve community health, reduce environmental impacts of cooking and preserve natural resources.  The grant will provide needed construction materials and skilled labor so that community members can construct 50 fuel efficient, vented cooking stoves, PCV Emma Long CCF Grant: $2,500 

67: Palmas Grande (Puerto Plata) - Library-Computer Lab Power Source, for a community of 620 people. PCV Paul Dumant CCF Grant: $631

66 Las Charcas de Gurabito, La Zanjas/El Batey-(San Juan) - Construction of 13 Cement Floors in Homes, PCV Eric Hicks CCF Grant: $2,500

65: Loma Atravesada, El Manantial-(Monte Cristi), Construction of 12 Latrines, PCV Thomas Betts CCF Grant: $2,450

64: La Guamita/Las Auyamas, Cotui (Sanchez Ramirez), Aqueduct for a community of 811.   PCV Ellen Abrams, CCF Grant: $2,500

63: Juana Diaz, Castillo (Duarte), Aqueduct serving 95 homes. Tiffani Jarnigan, CCF Grant: $2,358

2012 PROJECTS APPROVED
62: Pozo Prieto, Altamira Palmar Grande (Puerto Plata), Aqueduct for community and school, PCV Simona Platukyte CCF Grant: $2,500

61: Los Tres Pasos, (Hermanas Mirabel), Aqueduct for community and school, PCV Tal Wagshal CCF Grant: 2,500

60: Los Dos Palmas, (Hermanas Mirabel), Aqueduct serving 150 households, PCV Daniel Saboe CCF Grant: $2,500

59: La Hondonada/La Javilla, Cotui (Hermanas Mirabel), Aqueduct for the community and school, PCV Jennifer Vettel CCF Grant: $2,500

58: Firme del Chivos, (Hermanas Mirabel), Aqueduct and Storage Tank, PCV Ashley Brock CCF Grant: $2,500

57: La Guama Arriba, (Hermanas Mirabel), Aqueduct serving 360 people, PCV Benjiman Brock CCF Grant: $2,463

56: El Dajao, (Santiago Rodriguez) Constuction of 12 Energy/Environmental Stoves, CCF Grant: PCV Scott Hyndman $1,254

55: Higuero, Altamira (Puerto Plata), 13 sanitary cement floors, CCF Grant: PCV Scott Sloat $2,500

54: Agua de Luis, (Monte Cristi), Rainwater Catchment System for town of 375 and school where no water source is obtainable, PCV Ryan Browning CCF Grant: $2,307

53: Peralta, ( Azua), Construction of 10 Shared Latrines serving 33 households, PCV Sarah Zehner CCF Grant: $2,000

52: Los Cacaos, Los Calientes-(San Cristobal), Construction of 14 Latrines, PCV Douglas Wynne CCF Grant: $2,436

51: Alta Gracia, (Perdenales), Construction of one Cement Floor (Volunteer had to leave early for medical/health reasons), PCV Justin Swezey CCF Grant: $127

50: Las Palmeritas, San Jose de Ocoa-Pervia, Library serving 7 communities and 2,100 persons.  PCV Kristie Peterson CCF Grant: $2,500

2011 PROJECTS APPROVED
49: Alta Gracia/Bella Vista, (Santiago), Community Water System, PCV Joe South CCF Grant: $1,329

48: Los Bueyes, Moca-Espaillat, Construction of Cement Floors in 17 Homes, PCV Magee McDonald CCF Grant: $2,435

47: Los Urabos/Laguna Redondo, Las Miches- (El Seibo), Construction of 7 Latrines. PCV Lauren Marghran CCF Grant: $2,000

46: Las Yayas, Neiba-(Maguana), Construction of 9 Latrines, CCF Grant:  PCV Sarah Bottomley CCF Grant: $2,000

45: El Guayabo, Moncion-(Santiago Rodriguez), Aqueduct Reconsturction serving 38 homes, PCV Leigh Forbush CCF Grant: $2,000

44: Los Derramaderos, Hatillo Palma- (Monte Cristi), Construction of Health & Sanitary Facilties at School serving 150 families, PCV Eva Gougian CCF Grant: $1,646

43: Mahoma, Rancho Arriba (Nizao)-Peravia, 7 Latrines, PCV Leon Leid CCF Grant: $2,000

42: Arroyo Manteca, Rancho Arriba (Nizao)-Peravia, 7 Latrines, PCV Anna Beiler CCF Grant: $2,000

41 La Penda, Tenares-Hermanas Mirabel, Installation of Drinking Water Filter in 93 homes, PCV Bob Tuttle CCF Grant: $1,940
 
2010 PROJECTS APPROVED
#40 Construction of Classrooms for Remedial Education in Roblegal  
Tackling one of the major social issues of the country - the high percentage of school drop-outs in rural areas – the community of Roblegal (near Baní in the south) formed a private school to work with children who require more intense help than can be offered at the public school. Many of these children have learning disabilities while others are dealing with emotional or behavioral issues and still others simply need more one on one instruction.  A Clinical and Educational Psychologist serves as the primary teacher for the school and leads the other teachers in providing more individual attention to the children.  The success of the Colegio Cristiano Nación Santa in motivating children and improving their learning abilities has led to a crisis of space for classrooms.  PCV Daniel Golub, a teacher trainer, has been working with the teachers and parents to raise funds to expand the school and has turned to the Challenge Fund for a $2,500 grant.  The plan is to build additional classrooms to increase enrollment from 35 to 65 students.  Community volunteers and parents will provide the labor and fund-raising activities, along with the Challenge Fund grant, will provide the construction materials. Approved December 2010 – Completed April 2011

#39 Los Miches Composting Latrine Project                     
PCV Andrea Montague's community assessment of Los Miches, located on the Haitian border 10 minutes from Dajabón, indicated that 30% of the community did not have access to a latrine.  In addition, a large number of the existing latrines were inoperable because the high water table from the surrounding irrigated fields resulted in the pit latrines constantly filled with water.  A committee of 8 community leaders developed long range plans to resolve the problem, the first step of which was to introduce composting latrines to the community by building 6 latrines to serve 15 homes.  The composting latrine construction creates two impermeable holding chambers above ground and employs a usage system of annual rotation of the two holes which allows the human waste in one chamber to decompose and ultimately be dried and removed (to be used as non-contaminated fertilizer) while the other chamber is in use.  A $2,000 Challenge Fund grant provided the construction materials while the benefiting families supplied all the labor. Approved June 2010 September 2011

#38 La Descubierta Water Supply                                 
The 23 households making up the remote rural community of La Descubierta, located high in the northern mountain range above Puerto Plata, had never benefited from a ready source of potable water and therefore often used contaminated streams for their water supply.  Working with PCV Gabriel Miller, a Water/Environmental Specialist (whose technical role is to protect the ecology in the northern mountains while improving community health), the community planned and implemented an aqueduct construction project to bring water to the community.  With the help of a $2,500 Challenge Fund grant (representing the first grant made at the increased maximum award), the community constructed a 3,500 gallon storage tank and 3 kilometers of pipe to bring clean water to homes in the community. Approved June 2010 – June 2011

#37 Batey 6 Latrines                                                    
One of the major issues in this very poor community located near Tamayo in the country's southwest region is that 73% of the 520 homes do not have access to any latrines.  As a result, community members in Batey 6 historically used informally designated open areas near the irrigation canals for their human waste needs.  Luchadores por la Comunidad, a local youth group, joined by local community health education group began, working with PCV Marissa Emiliani to develop plans to work on the problems.  They determined that a first step was to construct 10 pit latrines.  A $2,000 Challenge Fund grant was approved for the purchase of most of the construction materials.  After receiving training on latrine construction from a World Vision staff member, seven members of the Youth Club were able to build 10 latrines within an amazing 15 day period! Approved June 2010 – Completed September 2010

#36 La Colorada Arriba Aqueduct Project                      
After the successful completion of the aqueduct project in nearby La Colorada Abajo, PCV Sarah Casey began working with the community of La Colorada Arriba to resolve their critical drinking water needs.  The majority of the community of 140 households historically met their drinking water needs by purchasing river water from trucks that periodically delivered to the town.  The community committee planned a project that included protecting the spring source, installing a centrifugal pump, constructing a storage tank and laying transmission lines from the spring to their homes.   Each family contributed $35 to the project and committed to a monthly quota to develop a reserves and replacement fund, assuring the sustainability of the project.  A $2,127 Challenge Fund grant served as a catalyst to obtain other resources from local government and international aid programs to pay for the $18,000 project.  Community labor represented approximately 35% of the costs.  
Approved May 2010 - February 2011

#35 Pedro Santana Latrines                                          
The town of Pedro Santana lies along the border with Haiti and is one of the poorest communities in the country.  Pedro Santana's 1,500 residents have long endured major health problems, in part a result of their primary source of water being the river forming the international border and historically poor health practices.  A contributing factor is that many of the community's residents were raised in Haiti which has extremely low health standards.  More than 50 homes in the community lacked any sanitation facilities.  PCV Jasmine Carver, working with the community's EcoClub (a community service youth group) began planning on a project to start working on the health issues.  The group developed a Challenge Fund application for a $2,000 grant to purchase materials to construct 7 pit latrines.  The unique component of this project is that the youth of community not only planned the project but provided all of the labor for the project. Approved April 2010 – July 2010 

#34 Los Blancos Latrines Construction                          
The results of a community diagnostic assessment conducted by PCV Laura Mollenhour revealed that 60% of the 40 homes in Los Blancos had either no latrines or latrines that were beyond repair.  In some families with latrines, up to 10 people shared one poorly constructed latrine.  The Women's Group of this southwestern DR community began meeting on steps to improve health conditions and quickly determined that resolving the human waste issues were critical to the long term health of the community.  As a first step, a Challenge Fund application for $2,000 was submitted and approved to construct 8 pit latrines.  Beneficiary families supplied all the labor and the Challenge Fund was used to purchase materials needed, including cement, plastic venting, zinc roof and lumber. Approved April 2010 – June 2010

#33 La Colorada Abajo Water Project                         
The small rural community of La Colorada Abajo, near Imbert in Puerto Plata Province, had historically met its drinking water needs by collecting rain water and drawing from local streams shared with livestock- streams which dried up in the summer months.  Parasites and diarrhea were common among children.  A spring, 3 kilometers away offered a potable source if it could be safely protected from animals and piped to the community of 100 persons.  Community leaders contacted Peace Corps-DR to request a PCV to live in their community and help them plan and implement activities to meet their primary needs. Water Specialist PCV's tested the potential water supply for suitability and also determined if it were feasible to construct a gravity-fed pipeline to the community to assure low energy costs and sustainability.  PCV Sarah Casey worked with the community to develop a Challenge Fund application and plan the work.  A $2,000 the Challenge Fund grant for materials to build an aqueduct serving the 23 homes was approved.  The community share of the project represented 75% of the total project costs. Approved January 2010 – October 2010

#32 Pies de los Picos Latrines                                  
Nestled high in the north coastal mountain range of Puerto Plata Province lays the small village of Pies de los Picos.  A community of 150, making their living off of subsistence farming, has recently finished an aqueduct project with the help of PCV Mark Humberstone.  The second greatest priority of the community has been health/hygiene including sanitary facilities. In addition an educational effort to train several community members as Community Health Promoters who make house calls to promote improved health practices, the community sought help to construct latrines.  The planning committee requested a $2,000 Challenge Fund grant to pay for the cost of materials for the construction 15 latrines.  Using the positive cooperative work experience employed in the water project, the committee formed teams to work on the latrine construction. Approved January 2010 – September 2010

2009 PROJECTS APPROVED
#31 Francisco Mateo Community Latrines                   
A partnership between the community members (lead by the Junta de Desarollo de la Comunidad de Francisco Mateo), the San Cristobal Provincial government, Peace Corps and the Challenge Fund will result in the construction of 20 latrines in the small farming community of 250 persons.  In the process of substantially increasing the sanitary facilities of the town, it is estimated that 90% of the human waste that is currently being distributed in the fields at the edge of town will soon be eliminated as a health hazard.  PC Volunteer Claire Clugston has been working with the Junta and individual benefiting families to plan the details of the project.  The Provincial government and CCF will each supply the primary materials for 10 latrines, each family will dig the hole and provide sand, gravel and 2 sheets of zinc to build the latrines.   Sixty percent of the cost of the project will be provided by the families and the Provincial government and the Challenge Fund will supply the other 40 percent. Approved September 2009 - Completed May 2010

#30 La Ya Ya of Batey Guineos Latrine Construction                                          
The impoverished community of La Ya Ya of Batey Los Guineos, consisting of 45 homes, has had a severe health problem in recent years.  PC Volunteer Kenzie Kraemer's survey of community8 needs found that over a 10 day period prior to the survey almost 50% of the children had had diarrhea.   A major source of illness in the community was the lack of sanitary facilities (only 15 homes had latrines).  In community meetings with the community members developed a plan to resolve the major issues consisting of health/hygiene workshops and latrine construction.  The community of poor subsistence farmers who, until the last 3 years when the plantations shut down had been poorly paid sugar cane field laborers, lack the financial ability to pay for materials and to construct all the latrines needed.  The community chose to construct 10 new communal latrines to be shared by 20 families who committed to work on the project.  A $2,000 CCF grant provided most of the purchased materials for the project and benefiting families provided the labor and sand for the cement. Approved September 2009 – Completed October 2010

#29 Batey Dona Maria Reinforced Pit Latrine Construction      
Like many other Bateys in the country, work at the sugar mills and pineapple plantations has dried up.  The 350 inhabitants of Batey Dona Maria, located in the southern Cibao region now primarily live off a farming of small plots and animal husbandry, eking out a meager subsistence.   Poor health is a major barrier to progress and approximately 40% of the children had diarrhea in the ten days prior to PC Volunteer Meredith Camp's community needs survey.  To begin working on the health needs as a priority, the community organized around a project of constructing 5 communal latrines shared by 10 families and 5 latrines for 5 large families.   Again, the CCF partnered to provide the majority of materials needed with a $2,000 grant and the community committed to provide the labor to construct the 10 latrines. Approved August 2009 -- Completed December 2009

#28 El Limon Health Care Clinic Construction                     
Four remote communities located in the central east hills of the country joined together to form a committee to solve one of their most pressing problems-community health.  Due to extremely poor roads that are impassible in wet weather, residents of the community faced severe challenges when someone became sick or was injured in an accident. Lack of timely medical attention greatly complicated their medical condition.  With the help of PCV Stacy Ngo, the villages obtained a commitment from the Ministry of Health for a doctor, nurse and medical supplies provided the community could create a health clinic facility.  Two youth groups and a women's group joined to organize the fund-raising and the project work committee.   A Challenge Fund grant of $2,000 put them over top for the $7,265 in cash they needed to raise.  The community is contributing over $14,000 in donated labor and local resources such as sand and gravel.  When the construction is completed, the 705 persons in the communities will enjoy easy access to health services. Approved February 2009 -- Completed July 2009

2008 PROJECTS APPROVED
#27 El Peñón of Barahona Cement Floor Construction                                     
The fourth Challenge Fund project to assist in the recovery from the storms was for 20 cement floors in El Peñón in the southwest, home to subsistence farmers.  90% of the households in El Peñón were forced to evacuate their homes during the flooding.  Fifty-one of these homes had dirt floors.  Upon their return to their homes, members of the households experienced a very high incidence of illness, with most of the families experiencing missed work or school during their illnesses.  With the help of PCV Angela Hamilton, the youth of the community organized in brigades to construct cement floors with the assistance of a $2,000 grant.  Each household contributed funds to pay for a cement mason to supervise and complete the final finish of the floors and the local government provided all of the sand that was needed. Approved August 2008 -- Completed December 2009

#26 Batey 7 & 9 Villa Jaragua Cement Floor Construction                                 
The December 2007 storms caused flooding of several communities with water and mud entering the homes throughout the communities of Batey 7 and Batey 9, among the poorest villages in the country.  As a result of the mud remaining after the storms, it became impossible for the families to keep the dirt floors of their homes sanitary.  The Challenge Fund provided a long-term solution by providing materials for 22 families to construct sanitary cement floors in their homes.  CCF donors contributed $2,000 and the community provided another $2,100 in materials and labor.  A comprehensive health education/training program was delivered throughout the communities as part of Peace Corps Volunteer Kaveh Azimi's holistic approach to community development.  The CCF-cost was only $90 per home. Approved August 2008 -- Completed November 2008

#25 Arroyo Manteca of San José de Ocoa Water System Renovation                    
The 300 inhabitants of Arroyo Manteca high in the mountains suffered severe damage during Tropical Storms Nicole and Olga which devastated southern communities of the country in December 2007.  The heavy rains and slides destroyed three cement and block water catchment systems, 50% of the pipes delivering water to each household and the primary chlorination system.  While the community received some initial emergency funding, only very limited repairs could be made and the system remained contaminated.  The community association, with the assistance of PCV Todd Haggard, organized to create brigades of community volunteers to provide the labor for the restoration of system.  The community provided all the labor.  A grant of $2,000 was provided by the Challenge Fund from donations made through the Kulstad Memorial fund to honor a 1960s water development PCV who recently passed away.  Work has begun on the project that will restore the community water system to the 80 households affected. Approved July 2008 -- Completed October 2009

#24 Los Ríos of Bahoruco Latrine Construction                                                          
Eighty of the 400 households in the agricultural community of Los Ríos community of 2,500 persons located on the shores of Lake Enriquillo were without latrines or other means of disposing of human waste.  As part of a comprehensive approach to improving health conditions and practices in the community, PCV Judy Torres worked with community leaders and the City Council to develop a plan to improve sanitation and health.  The plan included a series of workshops on water purification, disinfection of vegetables, prevention of dysentery and construction and maintenance of sanitary latrines.  The City Council contributed $600 to the community association for latrine construction and requested additional assistance through the Challenge Fund.  The partnership resulted in a Challenge Fund grant of $1,939 to purchase materials to construct 10 latrines shared by 118 persons in 18 families. Approved July 2008-- Completed January 2009

#23 Los Mameyes of El Seibo Latrine Construction                                           
Less than 1/3 of the residents of the small community of 205 residents located in the eastern coastal area of Samaná Bay had any sanitation facilities.  As a result, the environmental consequence of dumping raw sewage on the beaches was beginning to compromise sustainability of wildlife and fisheries.  PCV Aaron Arnoldy organized the community leaders who agreed that participating households must commit to contribute 20 hours of labor and $16 per household to pool their resources for construction of the new pit latrines.  The 48 residents of the 10 homes who committed to the project received a total of $2,000 as a CCF grant to help them with the cost of materials for construction of the latrines. Approved May 2008 - Completed November 2008

#22 La Ciénaga of Jarabacoa Water Supply Extension                                       
The community had been facing parasitic illnesses for many years as a result of their contaminated water sources.  An existing aqueduct system served only a portion of the 100 homes in the small mountain valley community.  Community leaders requested assistance to repair the existing aqueduct line, extend distribution lines and install individual household spigots to 25 additional houses.  As a companion project to improve the overall health of the residents, a total of 7 health promoters will be trained by PCV Idonah Molina to provide training and education on proper nutrition and food/water management.  All 100 families in the community will be provided the health training.  The CCF costs represented an expenditure of $80 per family to provide 25 households with potable water in their homes. 
Approved April 2008 -- Completed May 2009

#21 Batey Amistad of Imbert Communal Latrines and Water Repairs  
One of the poorest communities in the country, Batey Amistad, is home to 340 Haitian immigrants (both illegal and legal).  Non-existence or non-functional latrines forced the families to use the cane fields as their bathrooms, creating major health hazards.  In addition, the old water supply system was in need of repair.  While the families live in a sub-subsistence environment, they are working to improve the poor health conditions in their crowded community.  The community, located in the sugar cane fields near Imbert in Puerto Plata Province, has experienced a 28% death rate among infants over the last three years and severe gastro-intestinal disease, will also be working on a garbage disposal project as part of the overall health education and improvement program provided by Peace Corps Volunteer Jonathan Santiago. The Challenge Fund provided a grant to assist the community with materials to build 20 new latrines and make minor water system repairs while community members provided the manual labor to construct the latrines.  A grant of $2,000 grant provided the Batey with funds to provide its health program and improve sanitation in the community.  Approved January 2008 -- Completed July 2008

2007 PROJECTS APPROVED
#20 The Bajaboniquito Aqueduct                               
The 220 residents of Bajaboniquito will soon have a potable water supply arrive at their homes for the first time, significantly improving their health and living conditions.  The rural community, which rests in the hills of the Puerto Plata Province, is currently building two gravity-fed aqueducts, a 2,700 gallon reservoir tank and 2 miles of transmission pipes to serve its dispersed households.  While the project will provide running water to most residents, the community has lacked the funds to distribute the water to all of the individual homes.  The Challenge Fund will provide a $1,927 grant to pay for approximately 50% of the cost of extending water to 10 households who would otherwise have been unserved and result in a grant cost of just $193 per household. Approved August 2007 -- Completed September 2007
#19 Mata de Limón Four-Community Ventilated Latrines                            
Four poor communities located high in the mountainous interior region of La Vega Province have joined together to alleviate one of their major health problems-lack of sanitation.  Until recently, many of the 180 families of Mata de Limón, El Paso de la Perra, La Peñita and La Joya de Ramón have either been without latrines or have been sharing latrines while experiencing a 49% rate of gastrointestinal parasite infection.  One of the communities has recently developed 20 new latrines.  Building on the community's success, PCV Megan Drake and community leaders have proposed construction of 28 ventilated pit latrines and basic health workshops.  The community will contribute all of the labor and tools for the $3,200 project while the Challenge Fund will assist the community with a $1,960 grant for materials (only $71 per latrine). Approved July 2007 -- Completed May 2008

#18 Batey 8 Adult Education Facility                                                                          
Batey 8 near Barahona in the dry southwest is among the poorest communities in the Dominican Republic.  The 2,000 inhabitants of primarily persons of Haitian decent view education as a way out of their crushing poverty.  Over half of the population of this Baoruco Province community earns less than $2.00/day and adult literacy rates are greater than 50%.  Even the existing school system is inadequate, as "full time" high school classes last only 3 ½ hours a day.  Currently, 7th and 8th grade students must take classes outside as there isn't enough classroom space and a recently developed adult education class has been held in a deteriorated and abandoned house. The Batey 8 Development Committee, working with PCV Kaveh Azimi, arrived at a solution which includes the development of additional educational space and additional class time, backed by tutors, to focus on literacy for 478 youth and 33 adults.  The project will include the construction of a simple classroom adjoining the existing school which will be used for literacy education for adults and youth as well as provide added classroom space.  A $2,000 CCF grant will make the $10,800 project feasible. Approved July 2007 -- Completed February 2010

#17 El Corozal Four-Community Water System                                     
Located in the mountainous southwestern region in San Juan Province for small communities (El Corozal, Monte Fresco, La Sierra and Los Corocitos) are working together to bring potable water to their homes.  Currently families spend up to 3 hours per day to travel to rivers to obtain their daily water needs-water which is not suitable for drinking.  PCV Ben Lemkau worked with community leaders to assess potential solutions and to organize the work crews.  The project will meet the 11,000 gallons/day needs of the community when completed.  Several sources of funds were needed for this $55,000 project.  The community will contribute $14,000 to the project.  The CCF grant of $2,000 will be used to purchase materials for the household spigots and transmission tubing within the community. Approved June 2007 -- Completed November 2008

#16  Arroyo Blanco Composting Latrines                         
The community of subsistence farmers located in the dry southwest province of Peravia, had a history of experiencing significant health problems.  PCV Dina Boyt's community assessment found that 71% of the 70 households did not have access to adequate sanitation facilities.  Even those latrines in reasonable condition had as many as 10 families sharing them.  Due to a high water table, the typical pit latrine solution was not possible.  A system used in other CCF projects was employed: Two sealed cement block chambers would be constructed to be used in alternate years so that the contents of the off year chamber will compost and dry before safely removed after 12 months. The community's contribution to the construction of 13 latrines is significant.  Families will provide all labor, wood for the structures and other materials, contributing a total of $5,200 to more than match the $2,000 Challenge grant. Approved June 2007 -- Completed September 2007

#15 La Ciénega (La Vega) Latrines                                         
High in the central cordillera mountain range of La Vega Province lays the small community of La Ciénaga.  PCV Idonah Molina has assisted the community to plan and prepare for 10 ventilated pit latrines for families without any latrines.  Four local health promoters will be trained to provide information and training to families in the community on basic health as part of the project.  The $2,000 CCF grant will provide the majority of materials needed for the project while the community will provide a similar amount through volunteer labor and donation of materials. Approved May 2007 -- Completed April 2008

#14 Amiama Gomez Night School Generator                                                 
Students attending youth/adult education and literacy classes in a community of 3,500 in Azua Province frequently had to cancel night classes as a result of power outages in the community.  The solution, which was to obtain a battery-powered generator which could be used at night and restored during the day, will allow night adult and youth education classes to be held with consistency.  The project, coordinated by PCV Jennifer Bires received a $352 Challenge Fund grant which was matched by a 25% contribution from the community. Approved May 2007 -- Completed October 2007

#13 Palma Picada Aqueduct                                       
This small community of 40 homes (146 inhabitants) located in the mountainous north province of Puerto Plata had historically used water from a nearby river for drinking, bathing, washing and cooking water.  PCV Yee Chen worked closely with a community water committee to develop a solution to their health and drinking water issues.  The subsistence farming community will now have potable water brought to their homes.  Project activities include development of a springbox intake and storage tank, 2.5 miles of transmission tubing and local household tap stands.  The total project cost of $24,089 is being funded through a partnership of the Challenge Fund ($2,000), USAID, a Dominican bank, a local non-profit agency combining and a community contribution.  A community contribution of $9,200, consisting of materials, tools and labor, will be provided.  Forty families received water at a Challenge Fund cost of just $50 per household. Approved May 2007 -- Completed October 2007

#12 La Piña Ventilated Latrines                                                                                  
Located in the northwestern province of Santiago Rodríguez, community leaders and Peace Corps Volunteer Oravanh Thammasen sought solutions to reduce amount of gastrointestinal diseases affecting their children.  Working with the Comité Centro de las Madres, they surveyed the 181 households in the community and found that 24 families had no latrines while 140 other homes with latrines were in poor condition. To begin to bring up the health standards, the community's first priority was to construct 20 ventilated pit latrines for families without any latrines.  Work brigades will construct the latrines and six community members will be trained to promote hygiene.  The $2,000 Challenge Fund grant will be supplemented by a community contribution valued at $5,300. Approved April 2007 -- Completed September 2007

#11 Buena Vista School Library                                                    
This was the first education project we have funded.  Community members in area of 6,000 people in the southwestern region (San Juan Province), which had no library to serve them, has been working PCV Lindsay Dance toward the development of a community library for children.  The goal is to promote literacy for school-aged children K-12 and to further environmental education by providing resource and reference materials on natural sciences that can be used in conjunction with an upgraded school curriculum. The local school has dedicated a classroom to house the library and will be responsible for its maintenance in partnership with an organized youth group, the Brigada Verde.  Challenge Funds will provide $2,000 for the shelving for the books, chairs, tables, hardware for securing the Library and a portion of the books toward the total cost of $4,900 for developing the new library. Approved April 2007 -- Completed October 2007

#10 La Angostura Hydroelectric Power Project                     
A Community Challenge grant will bring electricity to the homes of 73 families for the first time.  PCV Courtney Briar is assisting a local cooperative to plan and develop a power generation plant on the Arroyo Parajito River (La Vega Province) to supply electrical power for the small businesses of the community.  The $2,000 Challenge Fund grant will provide funds for the purchase and installation of power distribution lines to individual homes.  Community members will provide the poles and the labor.  This project will fundamentally change the lives of the 365 residents as families will soon be able to keep meat, milk and produce safe for days (eliminating daily trips to the market), students will be able to read at night, the community will be able access a renewable energy source and power will be consistent for to "access the world" through the community's one computer.  When completed, the Challenge Fund cost for bringing electricity to the homes will be $27 per family.   Approved April 2007 -- Completed December 2008

#9 La Peonia Ventilated Latrines                                                                       
Forty percent (40%) of the families in this rural community of 293 persons, whose primary source of living is rice production labor, are without latrines.  Working with PCV Alysia Jicha, the community which is located in María Trinidad Sánchez Province developed a two step plan to construct 29 new latrines.  Other funds were found for 20 latrines and the Challenge Fund willl assist with materials for 9 ventilated pit latrines.  As a companion to the construction of latrines, "Community Engineers" will be trained to teach and promote basic hygiene and proper use and care of the latrines.  The Challenge Fund grant of $2,000 was supplemented by a community contribution of $1,300 (40% of total costs). Approved April 2007 -- Completed September 2007

2006 PROJECTS APPROVED
#8 Chorro Bonito Latrines                                                    
To resolve the number one community health problem of the small village of Chorro Bonito located in the northeast province of Dajabón near the Haitian border, the community constructed 20 ventilated latrines.  Existing latrines of the community were either of walls made of palm, had dangerously dilapidated floors or were non-existent.  Working in brigades of 5 persons four days a week for 10 weeks, the well-organized community assisted by PCV Meriel Darzen constructed 16 latrines for Dominican families, 2 latrines for Haitian families permanently living in the community, a latrine for the school and, with left over materials, a latrine for the community's church.  The community contribution of volunteer labor and some materials for the project resulted in the Challenge Fund expense of only $97 per latrine.  Approved July 2006 -- Completed November 2006

#7 Carata Cement Flooring for Health                                          
Forty-two (42) of the 43 families in Carata, near the Haitian border, lived in homes with unsanitary dirt floors before the Challenge Fund assisted the community by providing an avenue for grants from the United States to be used to finish the construction of cement floors. PCV Michael Yocum worked alongside the community brigades to assure the quality of the project. All 43 homes in the community now have cement floors.  Challenge Funds provided by the Wedum Foundation supported the project with $523 mainly to pay for the cost of transporting sand to the remote community.  Community volunteers and other sources accounted for the other 95% of the $9,800 in project costs. Approved March 2006 -- Completed May 2006

2005 PROJECTS APPROVED
#6 El Aguacate de la Ceja Composting Latrines                    
The town of El Aguacate, a linear community near Nagua in the northeast which was built along a dike road through the rice fields, had extremely low community health standards due to human waste leaching into the ground and into the canals behind their homes which used for bathing and clothes washing.   The high water table from normal flooding of the rice fields essentially filled the existing pit latrines to within 6 to 24 inches of the top, rendering them unsanitary and useless.  The innovative solution of PCV Josh Russcol was to develop enclosed latrines of mortared brick to prevent water from intruding and human waste from leaking into the canals.  Community brigades built brick and cement latrines with two seats over two separate chambers.  Only one seat/chamber is used at a time.  After one year, the seat/chamber is closed and treated while the families use the other seat/chamber. At the end of the second year, the first chamber is emptied and the contents (which are no longer contaminated because of treatment and drying up) can be safely used as fertilizer. To save money, the community made over 40,000 bricks for construction of the chambers.  The Challenge Fund grant of $2,000 helped construct 46 latrines at a grant cost of only $43 per latrine. Approved November 2005 -- Completed July 2006

#5 Pashutico Household Sanitation                                    
Located in the mountains near the Haitian border, the 16 households of this small subsistence farming community established sanitation as their number one need.  The project consisted of constructing cement floors for the homes of all residents without them.  PCV's Michael Yokum and Sara Robertson struggled along with the community to overcome the logistical problems of the project due to its remoteness and poor road conditions unsuitable for transporting sand and other materials.  Twelve (12) households joined with the other 4 households already with cement floors to complete the construction of cement floors.  The cement and a mason were provided through a CCF grant of $1,329 to supplement a $1,100 community contribution.  Approved July 2005 -- Completed June 2006

#4 La Ciénaga (Bellavista) Sanitary Latrines                
A small barrio of the town of La Ciénaga in the southwest of the country is the location of the first CCF project to assist an urban area.  The poorest barrio, Bellavista had been facing health problems as a result of a lack of sanitation facilities for human waste. PCV Nick Robles worked with a local association to plan and execute the project. The project consisted of health education and the construction of 11 latrines to provide a sanitary option to the open fields behind the homes.  CCF provided $2,000 for the materials and a cement mason while the community contributed labor valued at $1,200. Approved May 2005 -- Completed November 2005

2004 PROJECTS APPROVED
#3 Los Guayuyos Water Supply                                      
The community's 225 residents living in the foothills north of Nagua have benefited from a Challenge Fund grant to assist them in the construction of a new potable water system. Prior to the project, the community had carried their drinking and cooking water in 5 gallon containers from a source two miles away. With the help of the CCF grant, the community installed two miles of pipe and constructed individual household connections.  A $1,987 CCF grant was supported by $980 in community labor and materials, resulting in a Challenge grant cost of only $26 per household.              
Approved April 2004 -- Completed December 2004

#2 Villa Nueva Water Supply                                           
The 650 inhabitants of Villa Nueva, 20 miles north of Santiago, have never had a regular source of potable water.  They used seasonal springs when not dried up, carried water from the irrigation ditch or purchased water from a water truck that inconsistently arrived in the community at about $28/month per household.  The project constructed six miles of pipe and household spigots to bring the water to the community.  The community water committee required each benefiting household to contribute a set number of hours in labor and collects a monthly household assessment to provide for maintenance and repairs to the system.  The community raised $11,000 in donations and contributed labor to the project to leverage the $2,000 CCF grant. Approved March 2004 -- Completed August 2004

#1 Paso de los Burros Water Supply                                 
Nestled high in the coastal mountain range above Puerto Plata, Paso de los Burros is a remote village of 140 persons.  Community members historically have transported their water from a river several miles distant. 44% had suffered water-borne diseases from the river water.  The project protected a new spring source, constructed aqueduct lines, storage tanks and household connections.  The CCF grant of $2,000 leveraged $12,500 in other contributions, including community labor and community assessments. Approved March 2004 -- Completed July 2004